where
We are located right in the heart of Nashville at 58 East Main (3).  We are adjacent to the Courthouse, just off Main Street behind Old McDurbins, next to Pinecones and Primitives and Weed Patch Music!
hours
Regular Hours

Tuesday – Saturday                11-5 
Sunday                                    12-5 
(On Tuesdays we are also open 6:30-8:30 PM, so sometimes we close at 4 in the afternoon)
 Roving Indiana Yarn Crawl Hours
Monday – Saturday                10-5       Tuesday  6:30-8:30
Sunday                                    12-5
Special Promotions
The Banner Project
Bring in a knitted or crocheted banner and receive a 5% discount on your purchase, if it is knit with yarn from The Clay Purl you will receive a 10% discount.  For every banner you bring in, you will also get a chance to win 2 skeins of "Our Yarn" in the color and weight of your choosing.  Snazz it up!  A panel of judges will judge award one banner with a prize basket (valued at $75). So, it is a great chance to save and win prizes!  Deadline January 31, 2017
Banner patterns:  Crochet or Knit
Red Baby Hats
Once again we are collecting red baby hats for the American Heart Association.  Drop off your hats at the clay purl.  For every had you bring in, you will get a chance to win a skein of Our Yarn in the My Valentine color way.
For more information and patterns:  www.heart.org/littlehatsbighearts
knit night
All knitters, crocheters, and spinners are invited to Knit Night, every Tuesday evening at 6:30 PM
nashville is a great place for a fiber getaway!
Bring your knit and crochet group to beautiful Nashville, Indiana for a retreat, we will be glad to provide a special event for you in our shop, or help you with plans and suggestions.
These two great inns in town will work with you very well on a place to stay.
Cornerstone Inn
cornerstoneinn.com
888-383-0300
Iris Garden Gallery and Cottages
visitbrowncounty.com
812-988-2422
temperature project
Many have admired our temperature afghan in the shop.  Make plans now for your own in 2017!
Temperature Project
roving indiana – explore the yarn trail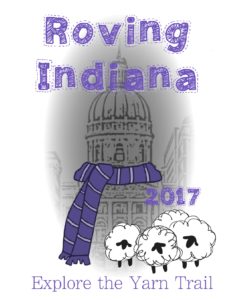 February 24 – March 12, 2017
Visit 14 unique yarn shops in central Indiana.
Purchase your passport now at The Clay Purl.  Also available in our online store! Passports are $7.50
Special edition yarn now available at The Clay Purl 37.00.  It is truly beautiful, and inspired by the painting of the Indiana State House by Jessica Green.  Jessica will be at the Clay Purl on the first Friday and Saturday of the yarn crawl!  Come meet her!